About African Attitude - your Africa Online Shop
Welcome to South Africa!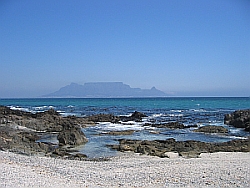 It is not hard to fall in love with the country of South Africa. South Africa not only has to offer great scenery and wildlife. Above all, the people with their diversity and vitality give this country its own pulse. So it is no coincidence that the South Africans refer to themselves as the "rainbow nation".
On our many trips to spectacular South Africa, we have learned to know and love the country and its people. The friendly, open smile, people in South Africa give to you, keeps us captured.
South Africa for your home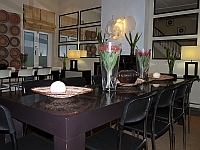 We have been escpecially intrigued by the fact that South Africans have got the dower to create true works of art with an incredible amount of technical skills. The result is decoration from Africa at perfection.
In South Africa you will find beautiful bowls made from recycled telephone wires, animal figures made of wire and beads, and fascinating everyday objects made from recycled materials, which are also excellent as an unusual gift idea. However, traditional handmade dolls, masks and baskets in Zulu style give each home a sense of African flair.
With the offered products on African Attitude, we also would like to give you the opportunity to get to know South Africa, its people and art skills better. Bring the magic of Africa into your home!<
Here you can find more information about our craft, the artists and craftsmen as well as our principle of " fair trade".
What means "African Attitude"?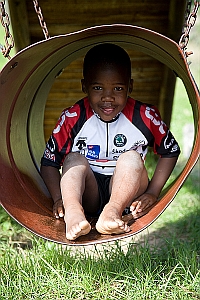 African Attitude describes the attitude of the people in Africa. Because South Africa is much more than land, people and craft. "African Attitude" also means to take on social responsibility. Companies in South Africa not just take, they also give.

For example mobile phone providers in South Africa: Free of charge they provide even small and isolated villages with containers, where access to telephone and Internet are available. Thus, even the poor have the opportunity to get access to information and education.
This exemplary engagement African Attitude also would like to bring to Europe. So you support local craftsmen in Africa by buying our products.
We are very pleased that you visit the African Attitude Online Shop. Take a look around calmly, rummage through our products - - and do not hesitate to send an email if you have any questions. Just as the people of South Africa who give the visitors the impression to be at home in their country, we wish that you feel comfortable with us, too.
Sawubona – A warm welcome to African Attitude!
Sincerely, your
African-Attitude-Team
---
You have a question about African Attitude? Then please have a look at our page "Frequently Asked Questions" - there you may already find the answer to your question.